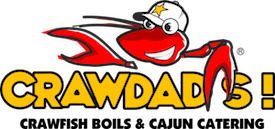 Houston Crawfish Catering

Thanks for choosing Crawdad's Crawfish Boils & Cajun Catering!

Crawfish Catering Houston - Crawdad's is the only one to call for your Crawfish Boil Catering. We take care of everything so you can relax. From our All-Inclusive catering options, to our table, chair, and tent rentals; we can handle your entire event easily and professionally. You don't have to risk being embarrassed when you choose Crawdad's for your Crawfish Catering in Houston. Our 100% No-Risk Money Back Guarantee gives you the peace of mind that we'll show up on time and take good care of all your guests. Don't take our word for it. Read our numerous online reviews to see what our happy customers say. We make sure you have the best crawfish boil experience in Houston. Don't take a chance - choose Crawdad's!